Are you tired to play your games on a small device? Or do you just want to play mobile games but don't want or can't afford a mobile device? That's no problem! I'll show you how to play and why you should play your mobile games on your pc.

Introduction
We all love those games on our phones, almost everyone has played at least one game on their phone/tablet. But what if I tell you that you can play mobile games (android) on your pc?
Games are getting bigger in file sizes by the day. This is because game makers are continuously updating their games and adding new features for it. So you phone storage will end up full very fast with a few games. Now if you would play those games on your pc, you will save a lot of storage on your phone that can be used for photos, messages and your Social Media apps.
Let me introduce BlueStacks, the most advanced mobile gaming platform on pc. You can download any android game from the Google Play Store or their game store and play it on your pc or Mac. And what now if you're a multitasker? Bluestacks got you! They allow you to open multiple game tabs and play your favorite games at the same time.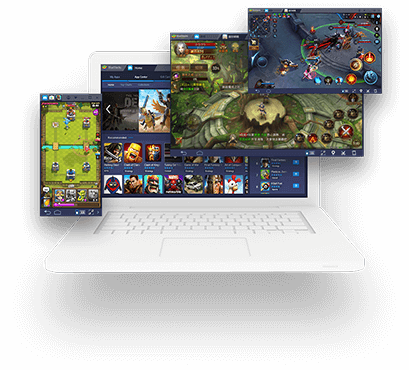 Features
When it comes to games we all want to have a 'very' good performance and graphics in order to play your games smooth. Getting Lag, bad FPS (Frames Per Second) is a nightmare for gamers! And maybe you've found out after playing games for some minutes, your phone gets very hot. I can tell you that you don't want that you phone gets overheated!
Fortunally, BlueStack has taken care of those nightmares and enhanced your gameplay by adding faster GamePlay and better graphics. So you can easily play your favorite mobile games on your pc/Mac without having trouble.
App Center
BlueStacks has also its own App Center where you can find new and old games. But if you aren't a fan of their App Center, no problem! There is also the well-known Google Play Store.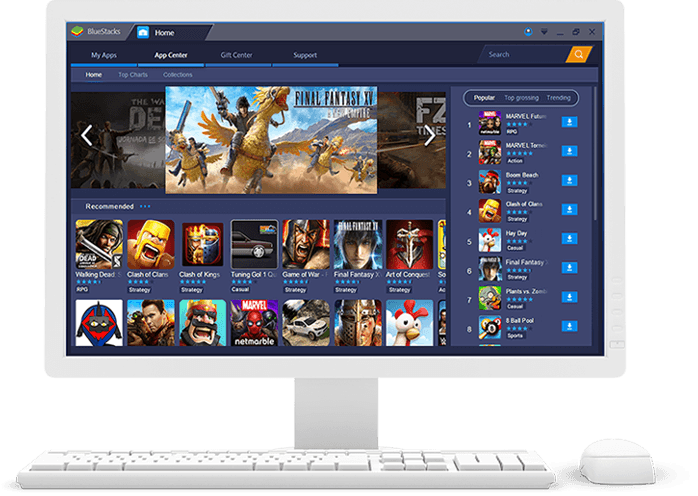 Friends
BlueStacks has a friend system, chat and plan your game strategies with your friends and lead yourself and your friends to victory!
Competitors
But what makes BlueStacks stand out as the most advanced? Well, BlueStacks has a build in Points System called "Pika Points". You can earn Pika Points by logging in daily (20 points), downloading an app of your choice (50 points/download) and for playing your favorite games (35 points/game).
The points are useful for special events, most of the time card events. See it as pack openings for a football game or your old collection of pokemon cards. Convert points/cards for cool gifts like: a pc mouse, mouse pad, subscriptions and much more!
Earn more points
Are you in love with the Pika Points? BlueStacks has a special program called "SuperFan". With SuperFan you will earn more Pika Points and get insider access to new features and releases. But how do I become one? In order to get into the SuperFan league, you must apply. It's one simple click on the Apply button and they will get back to you in 48 hours.
I recommend BlueStacks SuperFan for streamers and Youtubers no matter how big your channel is. They will ask for tasks like "Make a video about your gameplay". So if you're a Youtuber of streamer, you can get those extra points for just uploading your gameplay to your favorite platform. And if you want to make money with it, it's also possible with BlueStacks Affiliate Program.
Become an Affiliate
Yes, BlueStacks pays you for promoting their games listed on the Affiliate dashboard. Some offers (games) pay more than other offers (games). And also some countries have a better commission rate than other countries. I'm sure you're curious about the payout threshold and options.
BlueStacks has 2 options for paying affiliates. The first option is by PayPal, there is no threshold on the payout. And the second option is Bank Wires so a payment to your bank account with a threshold of $100 due to the bank fees. BlueStack pays their members every 1st day of the month.
If you are interested in their affiliate program, you can read more on their site.
Personalisation
When we buy a new mobile device, the first thing we all do is changing the background and the settings to give your device a personal touch. BlueStacks also wants you to feel comfortable. You can choose or buy themes with Pika Points to give BlueStacks a new look! And a new gaming experience.
Old VS New BlueStacks
BlueStacks is now running on Android N (7.1.2). And has a complete make over as we take a look at the beginning of BlueStacks. Not only the look but also the features have been updated and made more stable.
When I first used BlueStacks back in the days, I wasn't a big fan of their software. Their competitors had more features to offer. Now I can say that BlueStacks has done a good job in terms of developing more features and making their software better for daily use.

ilipily – ilipily.com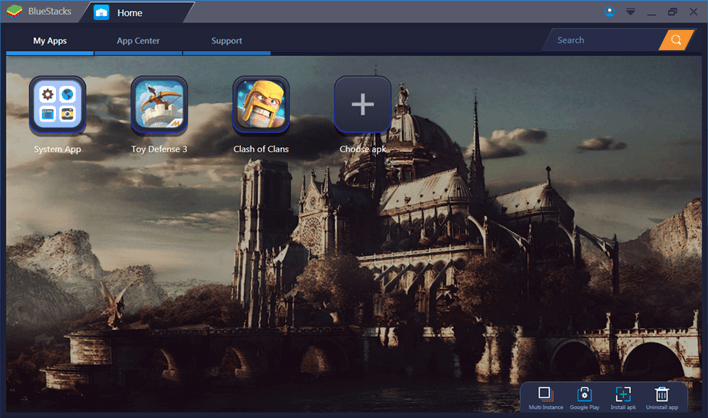 More Reasons
If I haven't convinced you already why you should use BlueStacks or in general, why you should have an android emulator on your pc. Then please keep reading the article.
BlueStacks is not only for mobile gaming! The access to the official Google Play Store enables you to download apps like: Facebook, Twitter, Authenticator apps and much more apps. This is very handy if you went on vacation with your pc but forgot to bring your phone with you.
I've spoken about Authenticator apps. Those apps are important when it comes to security of your accounts on your favorite websites. With BlueStacks you are able to download the Authenticator app on your pc. So if you forgot to bring your phone with you, you can still access your accounts.
---
Download BlueStacks
You can download BlueStack for free by clicking the button below.